January 28, 2006
Red Season Mk II
I remember posting about it last year during Chinese New Year, how Grandma would watch like a hawk when all of us cousins entered the dining hall; as if in hopes of seeing someone in tow. She asked me the question I'd have least liked to hear, at least at this point in time and somehow when she did ask, I heard my heart give a loud sigh deep down. I remember being assured that I might not be spending Chinese New Year alone this time around, but life hardly backs you up when it comes to assurances like that. Instead, more often than not, it leaves you high and dry. Disappointed, disembowelled by circumstances and destroyed by expectations.
Every year at Chinese New Year, the numbers seem to dwindle. Family members who were seen last year aren't seen in the next. Perhaps it's God's way of telling us that life moves on relentlessly, that people won't always be there forever. I remember family gatherings when I was just a child, where there'd be at least 4-5 places to visit throughout the festive period. Nowadays, it's more like a paltry two. Not to say I'm complaining about how things have turned out. But situations and developments like these only remind you of life's liquidity. There is no solid ground, no constant if you will. People come and go, they leave you or die. Perhaps the only people you can count on are your family; and even they have to die someday.
So where does that leave us? Alone and facing the torrents of life as a solitary figure cut in the midst of chaos? Perhaps so. At least that's how I feel. I know friends and family continue to be there, for support and love. But somehow, I know I've lost the aspect of life which God created us to cherish the most. That of love. And that is where the winter in my heart resides.
"This was never meant to be the end, close the book and start again."
Traveller fell apart at 11:30 PM
January 21, 2006
Imprints Of Consciousness
It's been raining intermittently for the past few days, not quite like last week where it rained for days in continuity. And it's on these rainy days on the bus where the mind begins to wander, to times lost and forgotten. The intermittent nature of the rain mirroring the turmoil of the soul beneath the facade, that of sporadic sorrow and at best, mellow contentedness. I've been feeling much like that, and it's strange to think how assured I felt merely months ago.
I've been trying my best to recover from what's been a crippling blow and to my credit, I'm succeeding gradually. But it's funny to see how things come more into perspective when you're not quite so embroiled in the situation but watching from a retrospective point of view. Thoughts come into your mind; could I have done this different? Why did I make that mistake? Why was I so foolish? But after awhile you realise that everything ever done has merely been a drop in the ocean of eternity. Fate, if you would call it that. And so life moves on, steady and gradual in its unceasing spiral towards nothingness.
I'm beginning to appreciate the friends I have around me more now. The people who've come and said a kind word or even given me a pat on the back, thank you really. I think it's people like these who give you courage to continue, to persevere on the race of life. But I suppose you can only recover so much, somehow someway, you're still scarred and changed forever. Perhaps in that sense I am, and just like the imprints of memories lodged in my psyche, they'll be there till the day I'm gone.
I can never forget that afternoon on Swanston Street, when I gazed into your deep brown eyes and saw the future laid out. And just as we were so engrossed, the sun seemed to be like a flash from a photographer; recording that moment in the sands of time.
Traveller fell apart at 1:23 PM
January 15, 2006
Droplets of Memories
Funny how things can turn in a matter of months. Funny how life can beat you down just when you're proclaiming joy. Funny how there's a fine line between love and hatred. It's a funny proposition; this concept labelled existence. But in that case, it's a sad existence. Because even though we might find momentary joy or bliss, it's all fleeting, all moving along an existential timeline designed to elude our grasp before we know it. And that's why it's important to cherish these moments of happiness.
My moment of happiness came and gone. In spite of everything that happened, the memories remain. Lodged in my heart and my mind, coming back occasionally to remind me of a peace and love I once felt but so swiftly snatched from my grasp. The things you said, about zipping up my Quiksilver sweater, about taking initiative in life, about keeping up image in public, about working hard and being a successful person, about being a good leader of the family, about learning to appreciate the Chinese language and so much more. The things you whispered in my ear, hugged me and showed you care, I'll never forget. Because all that's just gone and those were perhaps the last moments of love I'd experience in this lifetime.
I think I understand now what Jiehan was mentioning regarding a void developing in his heart. It's hard to describe and hard to pin down. It's not anguish as how most would feel after losing a loved one, more like a numbness; an apathy which sets in and devours your last shreds of capabilities to love anyone else. Idealism, something which I believed impossible in myself, found itself momentarily but was whisked away yet again. Who could blame me then, if I were to be cynical about affairs of the heart all my life from now on? Can I bring myself to take that plunge again? I think not. I've always feared close attachment and now even more so after what's happened.
I'm not stupid. I won't give up on myself and my life. I'll continue working hard and making myself the best I can be. I'll develop my character further and push my limits of endurance. But somehow I feel what's left of my capacity to feel empathy died along with everything else here. And all that remains, will be just a loveless, heartless bastard.
"There is a moment where fear and dream must collide."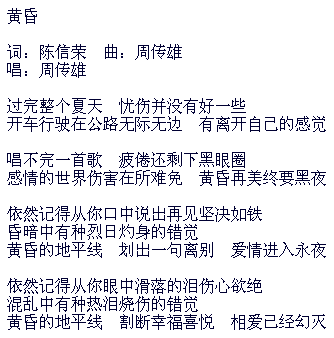 Traveller fell apart at 5:03 PM
January 14, 2006
Strike 3, You're Out
I first heard this song over the airwaves two days ago, and it's been ringing in my mind ever since. That's one thing I admire about music, its ability to speak into people's lives and to either soothe them or cajole them into a quiet calm. Either that, of course, or it bites into the worst of your nightmares and fears, surfacing all the hurt and pain you're going through. And this one really speaks to me.
Howie Day - She Says
Sweet is the sight
Of her room
Window open by candle light
How would you know
Cold winter on the shore
Chills the dress she wore
It's on the floor
It feels so warm
Today
And that's why I'm wondering
Why you had to tell me
What's going on in your head
What's wrong
Come around to another time
When you don't have to run
And when she says she wants somebody else
I hope you know
That she doesn't mean you
And when she breaks down and makes a sound
You never hear her
The way that I do
And when she says she wants someone to love
I hope you know
That she doesn't mean you
And when she breaks down and let's you down
I hope you know
That she doesn't mean you
Swing into flight
Over hills
Over her hills, it's twilight
Yeah, I guess that's right now
And while we're here, tell me
Why it's so funny
That you're so funny
When you're mad
Cause it's mad, so mad
And thats why I'm wondering
Why you had to tell me
What's going on in your head
What's wrong
Come around to another time
When you don't have to run
And when she says she wants somebody else
I hope you know
That she doesn't mean you
And when she breaks down and makes a sound
You never hear her
The way that I do
And when she says she wants someone to love
I hope you know
That she doesn't mean you
And when she breaks down and let's you down
I hope you know
That she doesn't mean you
I don't know where you're coming from
And I don't know where you're coming to
And I don't know what it means to me
And you don't know what it means to you
She doesn't mean you
I try my best to continue as normal, but something inside tells me that things could have been so different. If only.
Traveller fell apart at 8:15 PM
January 07, 2006
New Year Resolution(s)?
We've come to that time of the year again; a time where resolutions are made and most often, not adhered to. But all the same, resolutions afford us much-needed direction in a year which looms ahead. A year which might otherwise threaten to be directionless. I've never believed in making resolutions that I don't intend to keep, which is perhaps why I've never made new year resolutions unless I really mean them (this of course amounts to almost no resolutions made). A directionless year ahead then? Not quite so.
Things have changed, and it's in times like these where adversity deals its toughest card that you begin to see a need for change. It's no different for me then, in a year where I've realised alot of my limitations and begun to shed some of that overhyped arrogance. I'm not as smart as I thought I was, I'm definitely not well-to-do as I might have once thought and I'm definitely not hot in demand when it comes to the job market. A half dozen rejection letters to my internship applications may have something to do with this.
In youthful folly, I adopted a phlegmatic approach to school and extra-curricular activities. And it is precisely this phlegmatic approach which has returned to bite me in the arse; the importance of having a good extra-curricular activity record cannot be over-stressed, as with outstanding academic grades. And in all these areas, I have failed, leaving me with a barren and unattractive job resume. Regret initially sank in when I realised this but regret is something which destroys a man's self-confidence and subsequently, his future. There is no time for regret, only time for redemption.
I've come to a conclusion; a resolution if you will. A more pro-active and self-seeking lifestyle is what I need. The way I see it, I'm in the prime of my life now and if I don't seize the opportunity to learn everything I possibly can, I'd enter my 30s a very wide-eyed and gullible person. The time for sitting around waiting for things to happen has passed. The time for proving wrong those who thought me useless, lazy and certain never to make it big in life has come. Joel will push on, driven by determination and grit.
But would you permit me just a few moments of weakness? The flashbacks flood my mind with happy times. Times where being idealistic was a possibility.
Traveller fell apart at 12:36 AM