May 13, 2006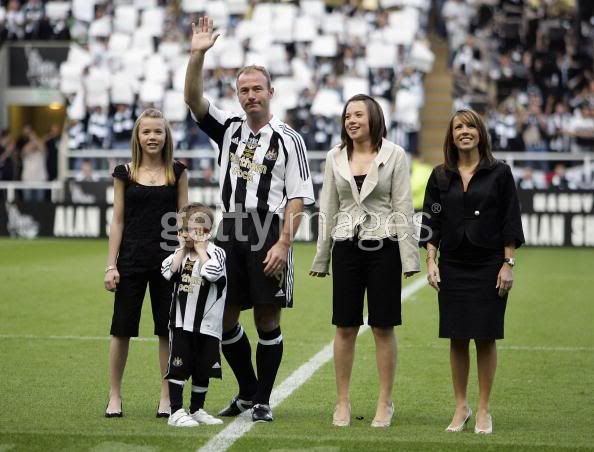 A Tribute
This is it then, the end of an era. An era in which passion, determination and fierce loyalty characterised Newcastle United's dressing room. Although the trophies never arrived in these 10 years, Alan Shearer's leadership during this period has been worth far more than that. His refusal of Manchester United's offer in 1996 to sign for his hometown club spoke volumes of the man's character. It had always been his dream; to captain Newcastle United and to lead the team out to 52,000 screaming Geordie fans week in, week out.
Why then, you would think, am I sorry that he's gone? Alan Shearer's always been an inspiration to me, both in terms of his playing abilities and his attitude towards life. Despite the success he's always enjoyed in ruffling the back of the net, despite the hero status he's always experienced at St. James' Park, it's never gotten to him. He's always kept his head down and stayed professional. No clubbing nights out, no speeding tickets, no frolicking with prostitutes and sluts. Can't say the same for many other rich soccer players out there. Despite all the wealth he's amassed, he stayed faithful to his family and not strayed.
Even when he's been battered and bruised, even when he needed 4 stitches to mend a wound he received during a match, Alan Shearer's always played on knowing the team was in need of leadership. His 206 goals plundered in 10 seasons for Newcastle United will never be forgotten, most notably the stunning volley against Everton and the hat-trick he scored against Leicester City to help Newcastle to a 4-3 victory. His heart will never be forgotten, because underneath it all, beats the soul of a Newcastle United fan willing his team on.
It's difficult to say goodbye to an old friend. The heart hangs heavy and the light goes out with a cruel flick of a switch. Nevertheless, we must wave off Alan Shearer, Geordie extraordinary, and prepare for existence without him. All that is good must eventually come to an end. Then it's time to bask in fond memories of great deeds and noble gestures.
Traveller fell apart at 8:22 PM